百奥利盟 | 新闻NEWS
百 奥 利 盟 ® 全 球 精 准 医 疗 和 创 新 生 物 药 数 字 化 生 态 的 产 业 力
业内动态
>
ASGCT年会邀请 | 百奥利盟倪毅受邀参加第26届美国基因与细胞治疗学会年会
ASGCT年会邀请 | 百奥利盟倪毅受邀参加第26届美国基因与细胞治疗学会年会
摘要
2023年第26届美国基因与细胞治疗学会年会(ASGCT)将于2023年5月16日至20日在洛杉矶召开,美国基因和细胞治疗学会(ASGCT)年会是基因和细胞治疗专业人士的首要活动,百奥利盟创始人倪毅作为ASGCT Member受邀参加本次为期5天的年会。
美国基因与细胞治疗学会(ASGCT)是由Dr. George Stamatoyannopoulos于1996年创立,总部位于密尔沃基,是全球最大的专业从事基因和细胞治疗研究的非赢利性医学组织,也是世界基因与细胞治疗领域最具权威性与公信力的机构。
ASGCT(American Society of Gene + Cell Therapy)提供一个国际化平台,供从业者们介绍和批判性讨论前沿基因和细胞疗法,会议的内容涵盖基因疗法从实验研发到临床试验以及各高校、研究所和药企的最新成果,包括众多研究人员将介绍基因与细胞治疗领域的前沿技术和方向。
ASGCT已召开25届,每年吸引数以千计的全球各地的学者、FDA 官员、工业界代表、投资人参加。在全球拥有超过5000名成员,ASGCT设有癌症治疗、心血管和遗传委员会等若干个科学委员会。
ASGCT Member:倪 毅 | CEO Bio LIMS INC
百奥利盟创始人 / 中国疫苗行业协会标准化委员会委员
硕士毕业于北京航空航天大学,专业为软件工程。美国伊利诺伊理工大学深造,专业为人工智能。致力于为全球精准医疗和创新生物药行业提供数字化解决方案。
2012年创建北京百奥利盟,聚焦基因与生物技术数字化,助力生命科学企业数字化转型。主持研发的数字化系统在中国和美国获得软件著作权和专利等知识产权。
2016年在美国创建Bio LIMS Inc, 主持系统国际化工作。在美国、中东等地取得多个国际化最佳实践案例。
中国疫苗行业协会理事单位/标准化委员会委员。目前研究方向是人工智能、GxP数字化、IIoT(工业物联网)、云计算在生命科学行业的应用。
ASGCT:History & Mission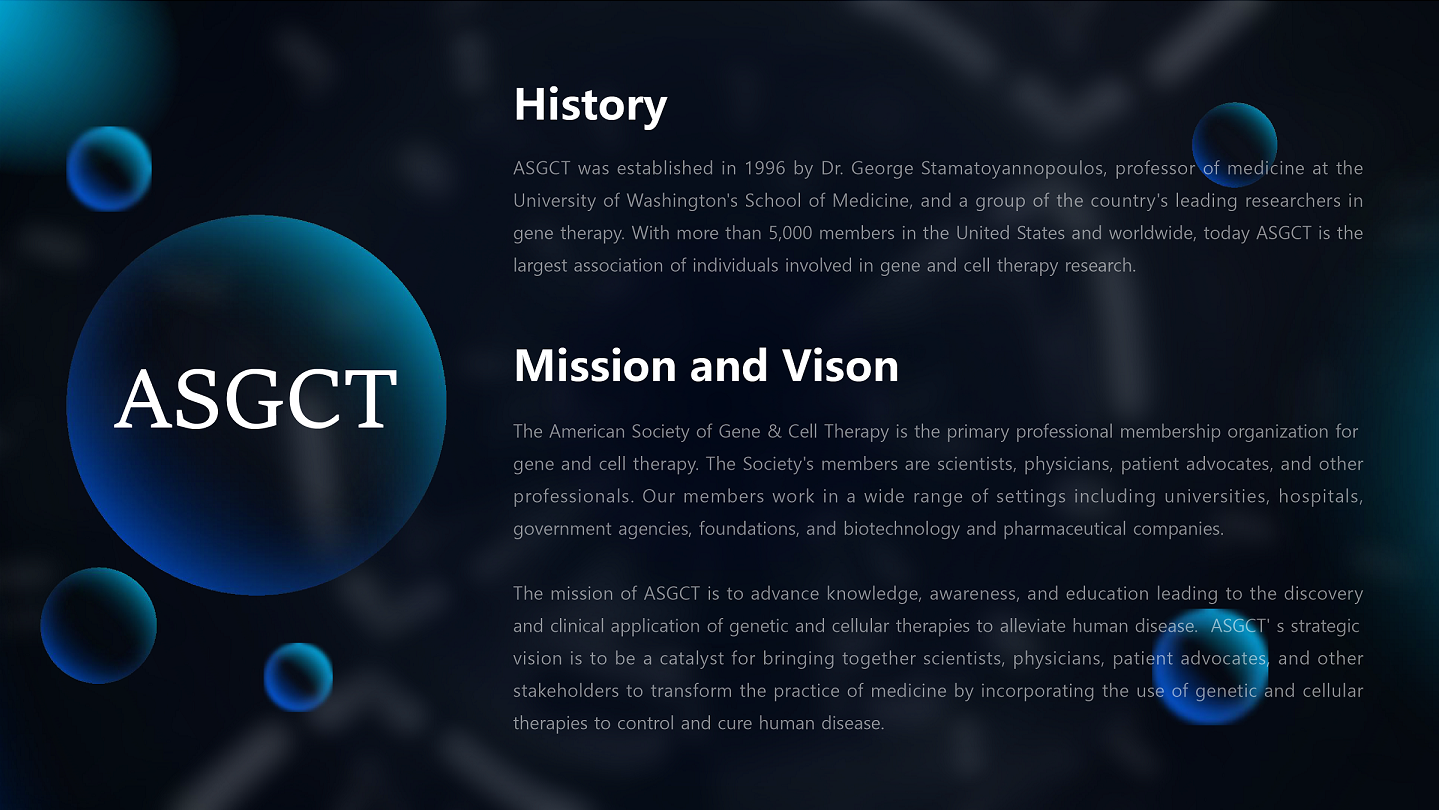 History
ASGCT was established in 1996 by Dr. George Stamatoyannopoulos, professor of medicine at the University of Washington's School of Medicine, and a group of the country's leading researchers in gene therapy. With more than 5,000 members in the United States and worldwide, today ASGCT is the largest association of individuals involved in gene and cell therapy research.
Mission & Vision
The American Society of Gene & Cell Therapy is the primary professional membership organization for gene and cell therapy. The Society's members are scientists, physicians, patient advocates, and other professionals. Our members work in a wide range of settings including universities, hospitals, government agencies, foundations, and biotechnology and pharmaceutical companies.
The mission of ASGCT is to advance knowledge, awareness, and education leading to the discovery and clinical application of genetic and cellular therapies to alleviate human disease. ASGCT' s strategic vision is to be a catalyst for bringing together scientists, physicians, patient advocates, and other stakeholders to transform the practice of medicine by incorporating the use of genetic and cellular therapies to control and cure human disease.
Dr. Kiem is a physician-scientist studying hematopoietic stem cell (HSC) biology, transplantation, immunotherapy and gene therapy/genome editing. He's also a trained and clinically active oncologist seeing patients on the marrow transplant and immunotherapy services. Dr. Kiem is currently the Stephanus Family Endowed Chair for Cell and Gene Therapy at Fred Hutchinson Cancer Research Center.
ASGCT 26th Annual Meeting
May 16-20, 2023
Speakers & Schedules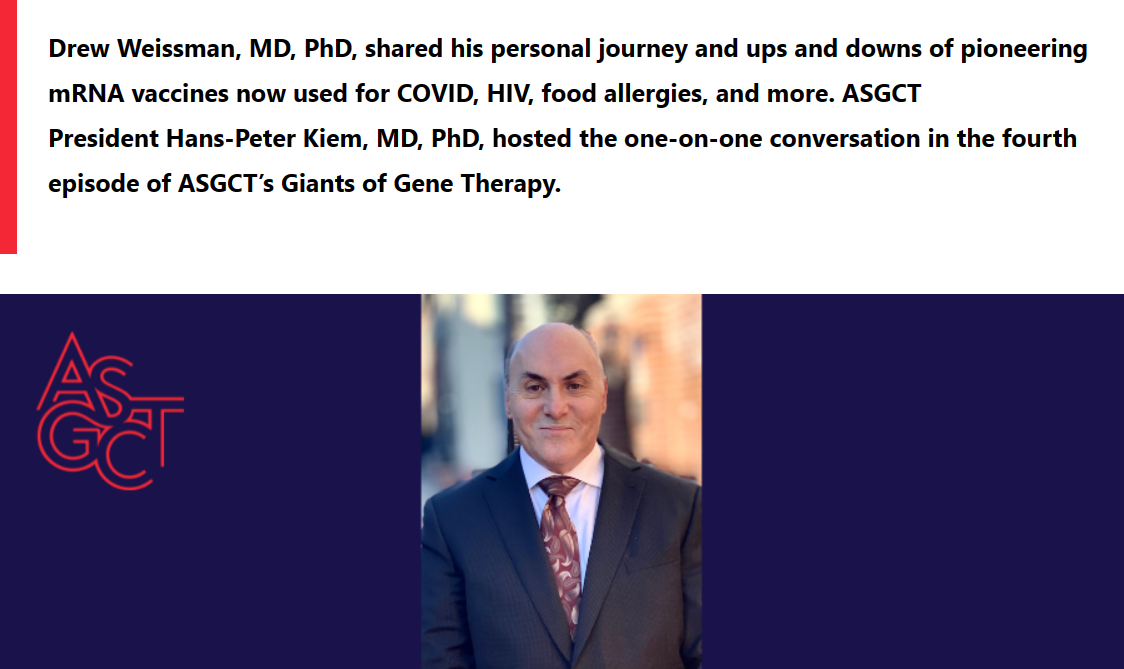 Drew Weissman, MD, PhD , is the Roberts Family Professor in Vaccine Research, Director of Vaccine Research in the Infectious Diseases Division, and Director of the Institute for RNA Innovation at the University of Pennsylvania. He co-created the nucleoside-modified mRNA technology and other mRNA vaccine-related improvements, patented in 2005.
CMC Development Challenges and How to Avoid Them
Tuesday, May 16 | 8 a.m. - 12 p.m.
This workshop will present attendees with information they can use to make timely, informed decisions throughout the development cycle to help them avoid or overcome common CMC challenges.
*** Interactive Portion: Following level-setting presentations, attendees will split into breakout groups to consider one or more hypothetical scenarios and suggest possible courses of action based on what they learned from the presenters. Finally, discussion leaders will reconvene to share ideas from each group and help illuminate key themes.
Comparability Challenges for CMC
Tuesday, May 16 | 1:30 -3:15 p.m.
This session will provide a CMC comparability playbook that can be utilized by CGT developers to support the incorporation of manufacturing changes throughout the stages of drug product development. Speakers will focus on:
Overview of comparability for CGT products: Considerations for developers
FDA's assessment of comparability data in CGT
Case study on comparability issues for cell therapies: Atara's experience
Case study on comparability issues for AAV products: Solid Biosciences' experience
Pricing Considerations in Genetic Therapies – Reassessing Access and Privilege 
Tuesday, May 16 | 1:30 – 3:15 p.m.
This symposium will first provide an overview of the core ethical questions at play, then engage a series of stakeholders to provide their views on the U.S. healthcare system at large, unique development and pricing considerations for CGTs, and the question of privilege in patient access. Speakers will focus on:
Setting the stage: Outlining the ethical dilemmas involved in pricing and access
ICER's valuation framework: Assessing cell and gene therapies
Pricing valuation of CGTs from the developer perspective
The promise and challenges of accessing innovative high-cost therapies: Angelman syndrome
Assessing the American health care system: How did we get here?
Accelerated Approval for Cell and Gene Therapies 
Wednesday, May 17 | 8:00 – 9:45 a.m.
This session will first address what accelerated approval is, including its scientific underpinnings and how it has been used in the CGT space. The session will then turn to forward-looking and in-depth panel discussion on the future of accelerated approval. Speakers will focus on:
Level-setting accelerated approval for CGTs: What sponsors should know
Bluebird's experience with accelerated approval and efficacy data - discussion on the Skysona (eli-cel) experience
The scientific underpinnings of accelerated approval: Validity of biomarkers and clinical data to demonstrate relevance
Novel endpoints and biomarkers in supporting CGT development
CBER's views on the past, present, and future of accelerated approval for CGT products
Emerging Regulatory Trends 
Thursday, May 18 | 8:00 – 9:45 a.m.
This symposium will bring together senior leaders from global health authorities (FDA and PDMA) to discuss important aspects of their regulatory frameworks for cell and gene therapy products. Speakers will focus on:
Upcoming guidance documents, new policies, and convergence efforts between regulatory bodies
Discussion of the current outlook for cell and gene therapy development in 2023 and beyond
Medicaid Coverage and Reimbursement of Cell and Gene Therapies 
Friday, May 19 | 8:00 – 9:45 a.m.
This session will be tailored to help the meeting's audience understand current access issues within the Medicaid system and explore solutions to better accommodate the exponential pipeline of gene and cell therapies. Speakers will focus on:
Current challenges in patient access and the implications for scientists
The role of Medicaid in ensuring timely, equitable access to care
Payer perspective on outcomes-based arrangements: State Medicaid programs
Payer perspective on outcomes-based arrangements: Managed care organizations
Payer perspective on outcomes based arrangements: Reinsurance for states and MCOs
来源: ASGCT | http://www.asgct.org